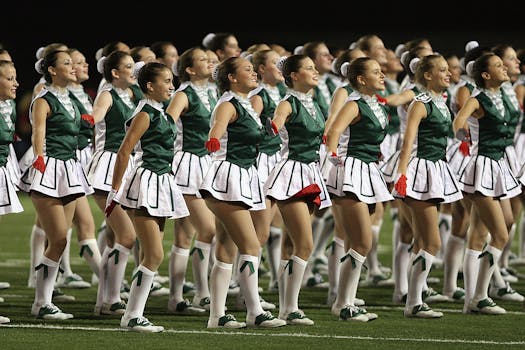 Cheerleading competitions are amazing and very stressful on everyone involved. Below are a few ideas about how to keep your stress level down if you're a competitor, coach, or parent.
First, prepare yourself. The best way to fight the strain of competition is to have a routine that everybody on the ground has mastered and feels positive finishing. From stunts to tumbling moves, be certain everybody's time is dead on perfect several run-throughs until you load the vans to head out to the contest. This means making certain practices depend, and everyone is present for each practice. No excuses. Even participants who may not feel the biggest can come in and see and spot so they're aware of any last minute alterations.
Second, ensure that your squad is ready with what they require. Make sure that they are loaded in the transportation the night before you must leave.
Third, make sure opponents have everything they want for the uniforms they're wearing. Backpack every complete uniform in a slider bag. Label the bags with each participants name using a permanent marker. If available, pack additional uniform pieces in various sizes also. Keep all the uniforms together! Do not give them to the participants until it's time to get prepared!
Be certain that you've chosen a make-up colour scheme and eye pattern until you reach the contest. Don't experiment when you're at the venue! If your group uses hair pieces, include them at the rehearsal and package them up using the make-up kits. If not, ensure to plan accordingly for hair rollers or curling irons to the style your squad is using and pack lots of hairspray. Proceed out with uniforms and make-up. Some squads charge admittance for a fundraiser and invite the community and school. They may provide a spaghetti dinner or hot dog dinner together with the entertainment. After the run-through, it is the ideal time to package the uniforms.
Give you to an assistant trainer or trusted parent. Be certain schedules, payment verification, and any other pertinent information to the contest are stored in the accordion folder.
It's necessary to keep the parents feeling as little anxiety as possible also. Their kids are performing before a good deal of people. They have probably put plenty of money and time into cheerleading at this time. They need a good return and a happy child when it is all said and done. Be sure they have directions to the place, a schedule for the events with their squad(s) times and phases emphasized if possible, a set meeting place for prior to the contest and after the competition, a schedule of the awards ceremony, and a list of potential places to stay and eat if it's an overnight competition. Many parents prefer to "reserve" together in regards to travel arrangements. You can set up a telephone tree, but do not count on that always functioning. Use email, text alerts, and Facebook alarms to alert parents to what's happening with the event.
Preparation Checklist:
1. Regular has been successful at clinic several times with no mistakes.
2. Each coach has a least two copies of their contest music.
3. All props are accounted for and packaged.
4. Cocoa Beach Raccoon Removal
5. All uniforms are packed and tagged and moved together.
6. All make-up kits are packaged.
7. All parents have many ways to get them to keep them current with the schedules.
8. Room reservations (if needed) are paid in advance and verification is in hand.
9. Departure time allows for flaws, hair and make-up difficulties, and maybe a few run-throughs prior to the contest.
10. Participant waiver forms are consistent with insurance details. Many times these are shipped in sooner with the registration.
Some useful hints for the multi-tasking coach:
1.
2.
3. Artist brushes work very well when applying eye make-up. The longer handles permit you to work without being right in the woman's face.
4. Use hairpieces if the group can manage it. They're so much easier than trying to do hair for each competition.
5. Make-up is obviously the same for the women. Same colours and "designs" on the face or eyes.
6. Bring additional hair pins, additional hair ties, and additional safety pins!
7. Don't become emotional in front of the group prior to the contest. Do not freak out when somebody drops a stunt at the practice time. Don't begin crying or laughing hysterically (whichever may be your working). They'll fell bad enough as it happens.
8. If you can afford it or the parents might love to help, have a little present for the kids when they're done. Even if it's only a keychain or a stuffed animal to help them commemorate their accomplishment of competing, it is going to mean a lot to them.
The more you're prepared, the stress you're going to feel.